Low Stock
PERSONALIZE MY BAG
PERSONALIZE YOUR BAG!
Example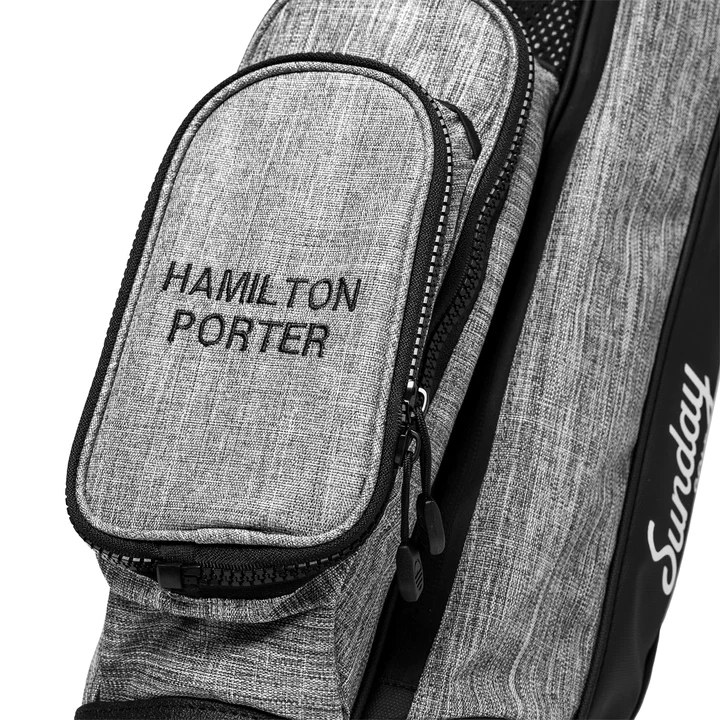 💰 USE CODE: SANTA15 FOR 15% OFF 💰
🚨 PRODUCT IN HIGH DEMAND 🚨
"PERFECT AND WELL DESIGNED. We wanted a bag to carry a few clubs for an easy stroll around out local course. This bag is everything needed. The first round I used the Loma started cool but after 4 holes I found I was too warm and took off my outer layer. I was pleased to find a pocket which the garment fit perfectly. Whether a casual round or a session at the range, I cannot recommend this bag enough." - Gwin Anderson 5.0 ⭐⭐⭐⭐⭐
Product Details

- Under 2 pounds, the LOMA Bag is an ultra-lightweight golf bag that doesn't break the bank or your back!
- It holds up to 6 clubs, so you'll never have to lug that old bag around your local Par 3 course again.
- Play a quick 9 or all 18, it's built-in stand and insulated drink pouch make any round a breeze.
- It's cushioned shoulder strap means Cart path only days will never get you down again!
- Its signature sleek design fits stealthily in your trunk, so you can be ready anytime Golf calls!
WHY BUY FROM US?
✅  FREE LIFETIME WARRANTY: Sunday Golf warrants our products for a lifetime period from the date of purchase against defects in materials or workmanship.
✅ GOOD TIME GUARANTEE GUARANTEE: We take pride in our products. Don't love it? It's all good, take advantage of our  FREE 30-DAY, NO HASSLE RETURNS.
✅ PREMIUM QUALITY MATERIALS USED: Look and feel great out on the course, at the range, or that putting green your buddy just put in. You'll want to show this gear off! 
A comfy full-length shoulder strap for convenience
Insulated Frosty Pocket to keep those hidden mountains blue 
Velour-lined pocket for your phone, keys, wallet, or whatever! 

Full-length Duraflex legs 

Club Divider Dimension: 4" L x 5" W
Full-length Divider





THE PERFECT GOLF BAG FORE: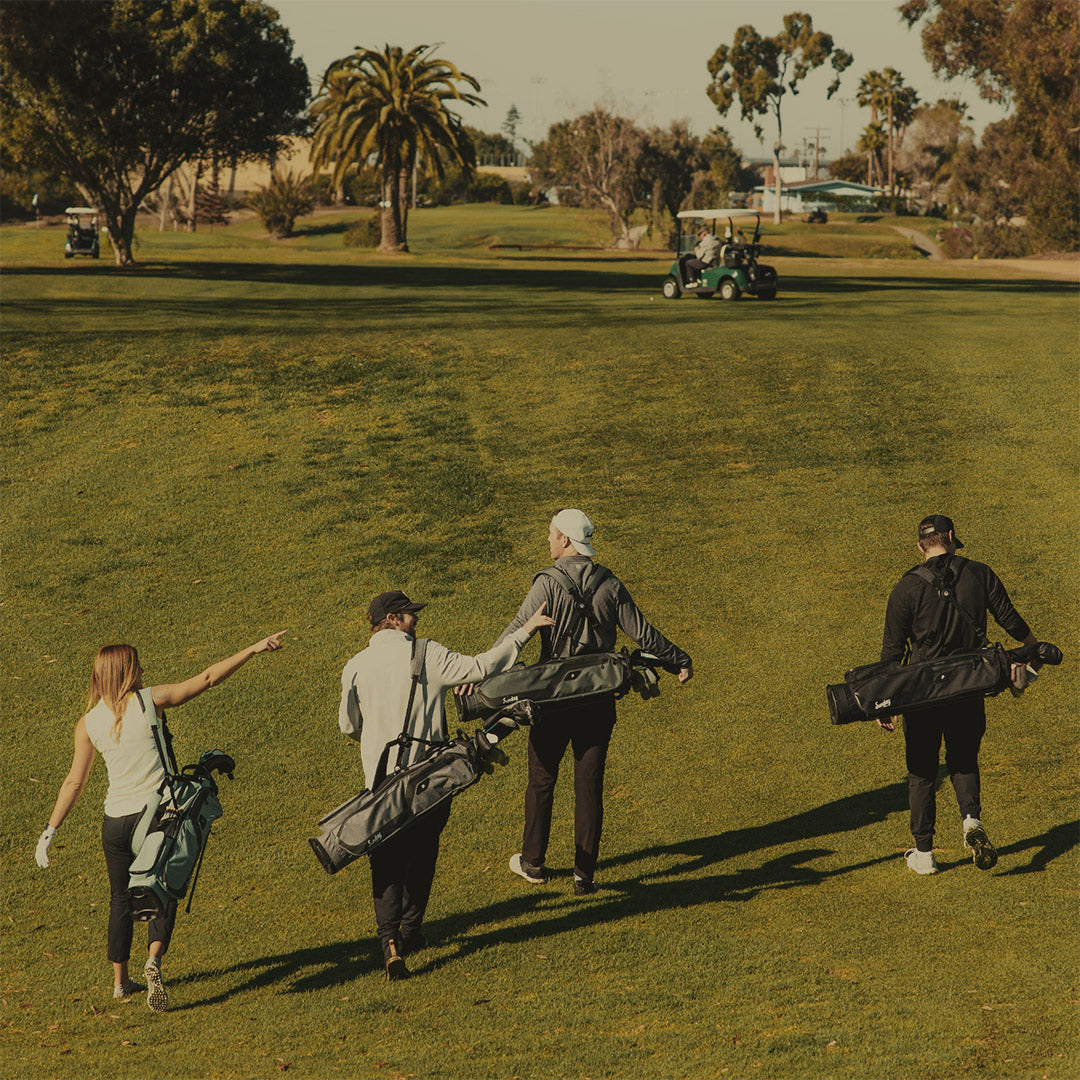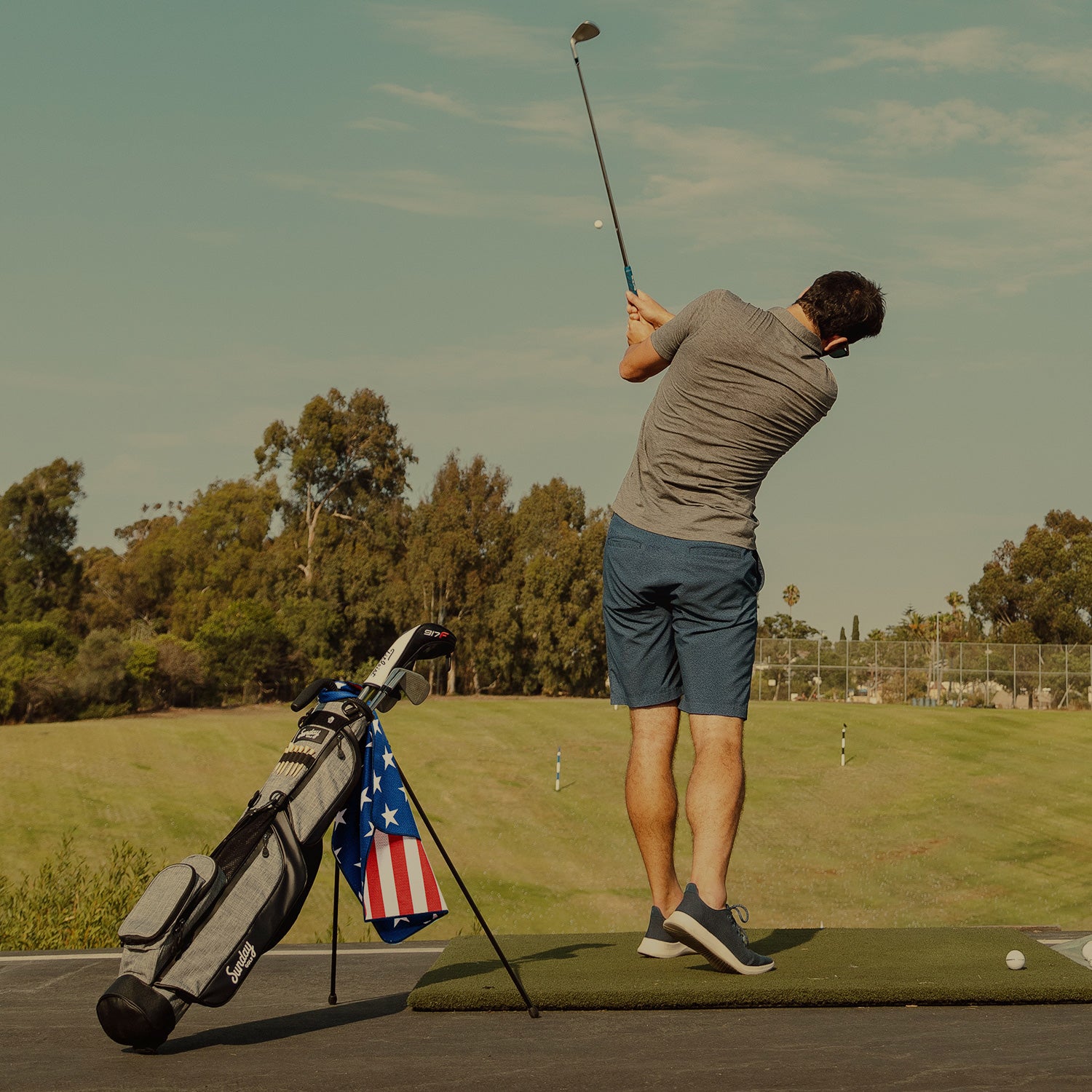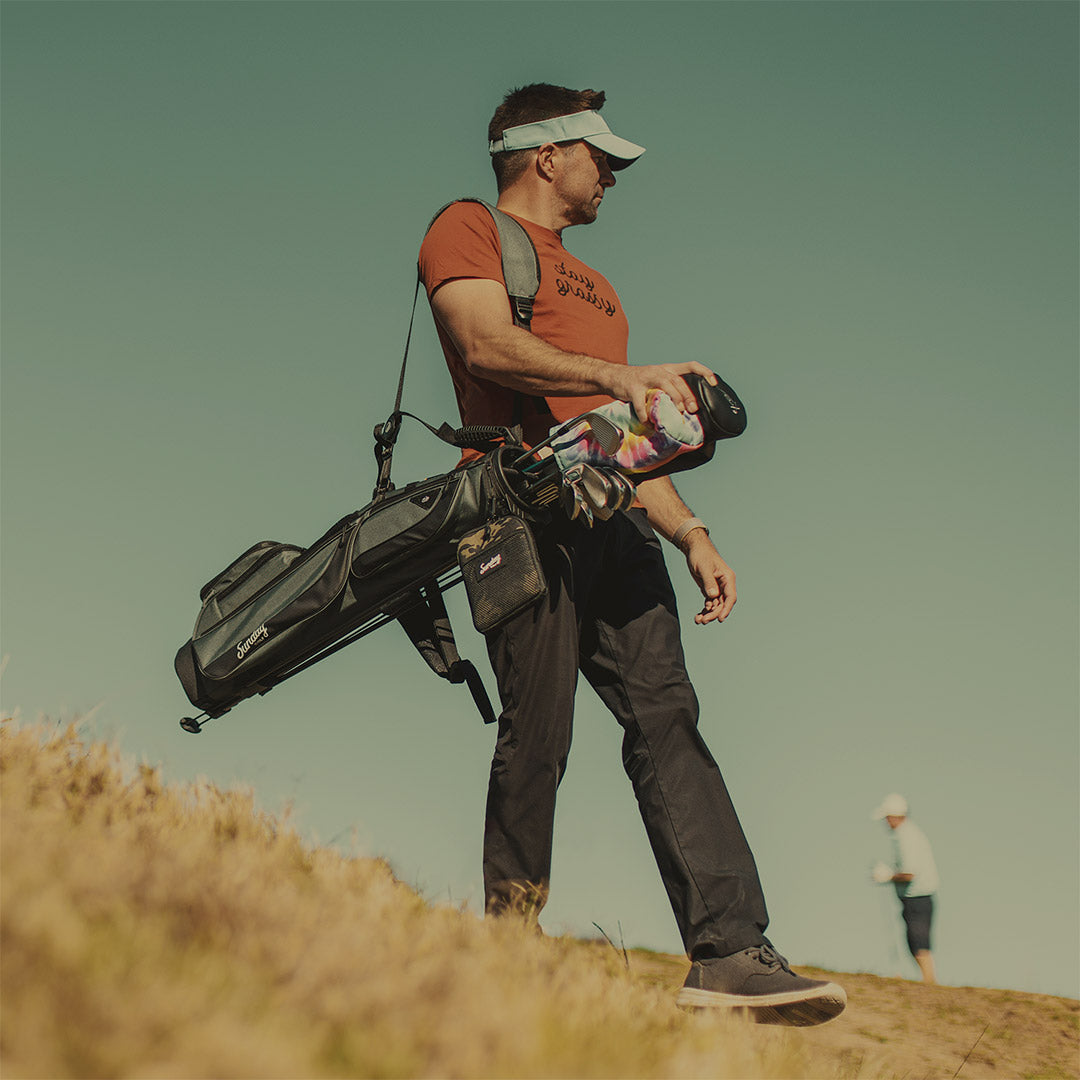 When It Comes To Enjoying The Game
There's Just No Comparison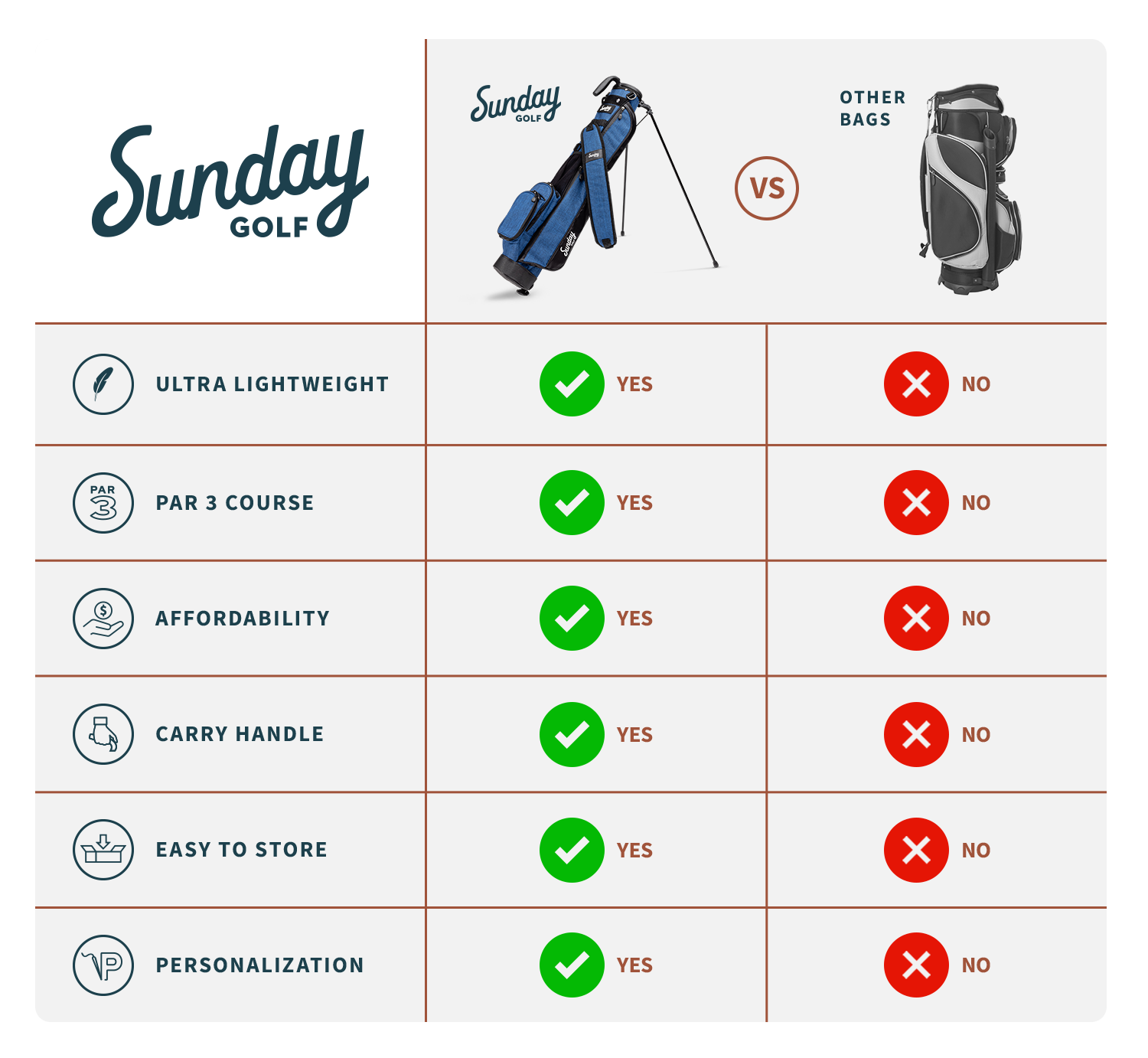 Shop now
CARRY LESS. ENJOY MORE.
Frequently asked questions
How many beers can it hold?
The Loma can fit two regular 12oz beers comfortably stacked on top of each other or one tall boy.  If you're a big seltzer drinker, you can squeeze two in there side by side.
Why do I need a bag that only holds 6 clubs?
Anytime you only need a few clubs really.  If you play at your local par 3 course or go to the driving range, The Loma is a perfect option.  We've also had a few customers who have switched to a half set of clubs and now use the Loma for walking a full 18! 
Are there backpack style straps available for the bag?
Yes! We now have backpack style double straps as an option.  Click here to check them out! 
Can I strap this thing on a cart?
Yes! It looks kinda funky strapped on there but yes it does work on a cart.
What are the dimensions/weight of the bag?
1.95lbs, 31.5" Height, 4" Width (top opening).
How many clubs can it fit if I have oversized grips?
You can fit 4-5 comfortably with oversized grips.  However, I would suggest checking out our LOMA XL here if you have larger grips.  Might be a little more convenient.  
Buy Now
FIND THE RIGHT SUNDAY GOLF BAG
Scroll right for more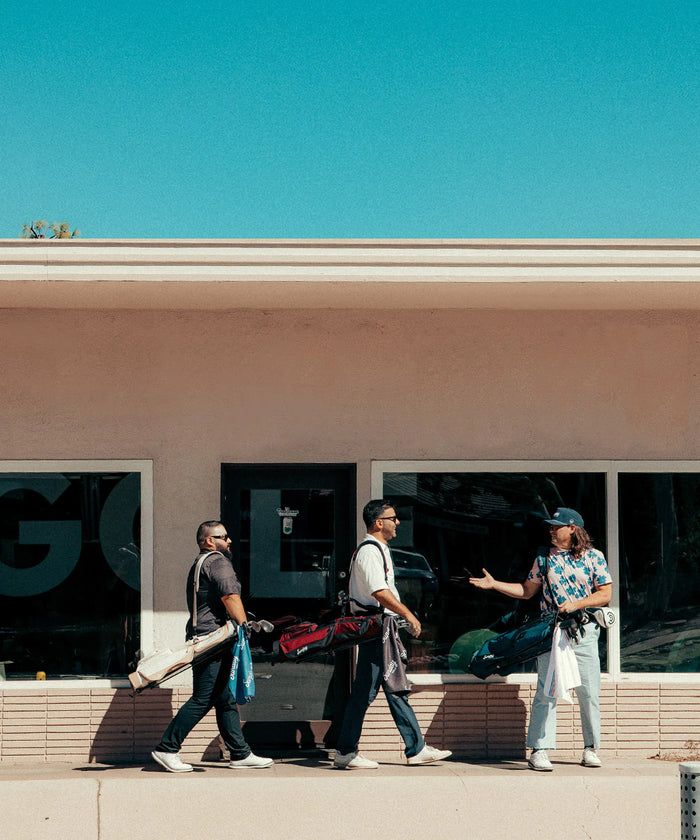 GOLF GEAR DESIGNED FORE THE WEEKEND