Hometown Golf Towel | Miami Vice
💰 USE CODE: SANTA15 FOR 15% OFF 💰
🚨 PRODUCT IN HIGH DEMAND 🚨
"Kick-ass towel! All of my buddies are jealous of this towel. Really looks good on the golf bag, the material is awesome!" - Liam Brogan, United States 5.0 ⭐⭐⭐⭐⭐
Product Details
The perfect towel for any golfer who wants to bring the beach party to the course.  The Miami Vice golf towel features the Sunday Golf signature Sundaze icon on the front with the color style that reminds you of playing Vice City.
Product Size: 14"x40"

Material: 80% Polyester 20% Polyamide





I mean it was a free towel…..
Quality is a 2/10
Color 1/10
Exposed stitching, colors are way off, not a black towel it's brown…
Instead of using a solid piece of material they stitched multiples together, and the stitching is rough.
I gave it 2 stars because it was a "free towel"
Plus shipping, but it's not worth the shipping of $9 if you ask me.
Love it
This company is great. Products are high quality, look good and are affordable. If your a minimalist golfer like myself you'll feel this. Company was made for you.
Towel doesn't fit
The material is really nice. The design is fantastic but it comes with a giant hole in the middle and there's not a clip for me to clip to to my bag
The car trip bag
Love my new Sunday golf bag. And with a stand!!
Very nice
My only knock, is I like a clip on towel. Not really a fan of Towels that hang on clubs. They should offer this and I'd buy another lol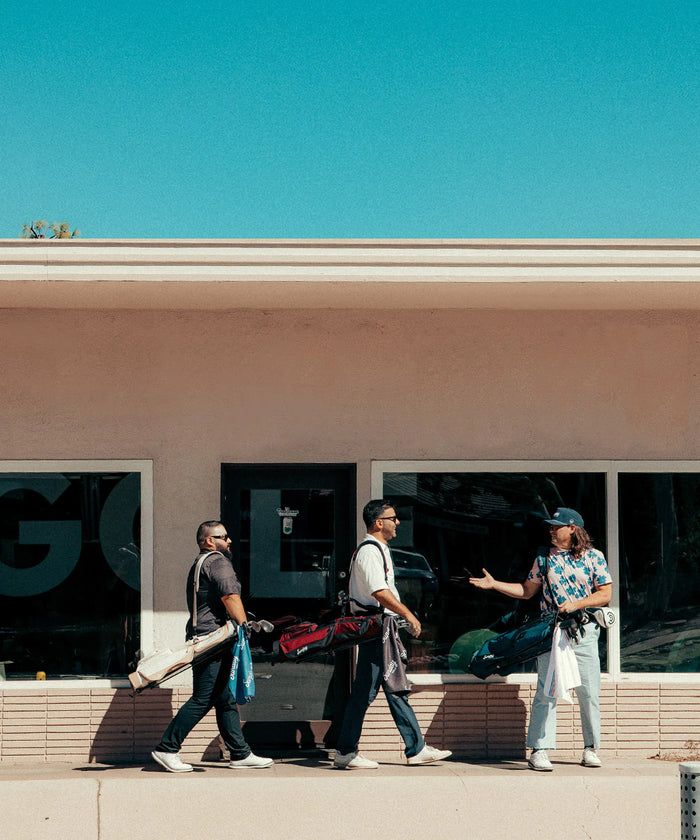 GOLF GEAR DESIGNED FORE THE WEEKEND