Out of stock
BIG FROSTY | Olive
🚨 PRODUCT IN HIGH DEMAND 🚨
"Incredibly sleek Cooler!

 

This cooler is perfect for carrying your favorite beers, fitting into any bag, and most importantly keeping your refreshments cold for when you birdie (or bogey) the first hole. Highly recommend!!" - Tyler Endres, United States 5.0 ⭐⭐⭐⭐⭐
Product Details:
- Cart Girls hate this golf bag cooler. Fits discreetly in your bag and keeps a 6 pack of your favorite course beverage ice cold. 
- Our signature frosty pocket just got even more portable. Take this with you to the range, the beach, or even the tailgate. 
- The weather resistant material will look good and keep your drinks cool round after round. 
 - Do not put ice cubes in bag.
Features:

Size: 17" x 7"
Material: Coated Polyester

Water-resistant zippers

Fit up to 6 cans

Holds 4 pint cans 

Fit 6 slim cans comfortably

Very discreet 

Sleeves for ice packs

3 grab handles 
Does not fit in the Loma or Loma XL Bags
Ice pack not included





Great little cooler!
This cooler is great! I'm definitely using this for more than a day at the range! I was able to fill it with 6 cans plus a slim Red Bull to keep going. Kept the drinks cold even towards the end of wrapping up a day of 18 holes. I'm not ever leaving without this! Not sure what the next Sunday Golf product I'm getting but so far I've not been let down and I like their products.
Sneaky Good Cooler
Alas! Says the starters and rangers.."Where are these outside cold pops coming from?!"
Above and beyond
Perfect to keep 4 beers and snacks along with a couple ice packs. Keeps everything cold for the entire time you're out. 10/10 would recommend 👌🏼
I LOVE It
This is the handiest thing - good for golf, good for tailgating, good for any occasion. Awesome packaging and construction.
7 cans?
Nice little can cooler.
It's not possible to fit 7 regular 12oz cans in it!
Maybe they're referring to the skinny cans. I haven't tried them.
Easily a Top 10 Golf Gear Item
This cooler came in a holiday bundle that I ordered....I was thrilled with the golf bag, but blown away with how cool and functional the BIG FROSTY is...so good that I turned around and bought one for my buddy. Well done Sunday Golf!!
BIG FROSTY | Golf Bag Cooler
Love It
Great little cooler bag! I just need to find some perfect ice packs to fit it
CART GIRLS HATE THIS BAG!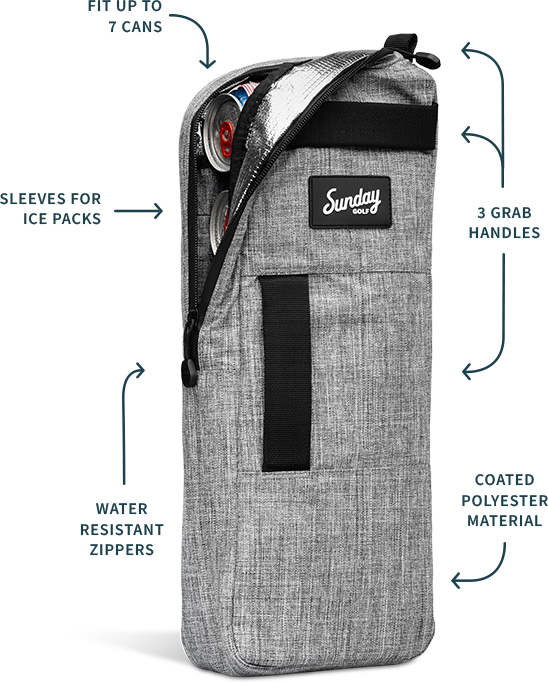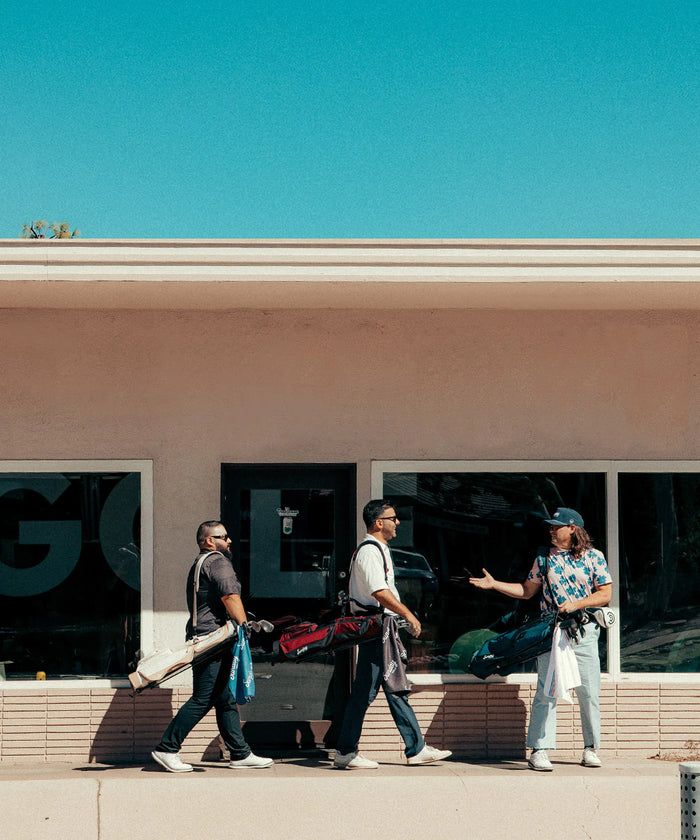 GOLF GEAR DESIGNED FORE THE WEEKEND