BIG FROSTY | Matte Black
💰 USE CODE: SANTA15 FOR 15% OFF 💰
🚨 PRODUCT IN HIGH DEMAND 🚨
"Incredibly sleek Cooler! This cooler is perfect for carrying your favorite beers, fitting into any bag, and most importantly keeping your refreshments cold for when you birdie (or bogey) the first hole. Highly recommend!!" - Tyler Endres, United States 5.0 ⭐⭐⭐⭐⭐
Product Details:
- Cart Girls hate this golf bag cooler. Fits discreetly in your bag and keeps a 6 pack of your favorite course beverage ice cold. 
- Our signature frosty pocket just got even more portable. Take this with you to the range, the beach, or even the tailgate. 
- The weather resistant material will look good and keep your drinks cool round after round. 
 - Do not put ice cubes in bag.
Features:
Size: 17" x 7"
Material: Coated Polyester

Water resistant zippers

Fit up to 6 cans

Holds 4 pint cans 

Fit 6 slim cans comfortably

Very discreet 

Sleeves for ice packs

3 grab handles 
Does not fit in the

 

Loma

 

or Loma XL Bags
Ice pack not included





"BIG FROSTY" is the GO TO Cooler Bag!!!
This was by far one of the best purchases I have ever made in the game of golf. I have been Golfing for 30+ years and there is not a better bag to take for league night or shooting a quick nine on the weekend. The fact that it fits so perfect in your bag without the bulkiness is phenomenal! I will be purchasing more of these just as gifts for other golfers I shoot with. I understand how it may not fit bulkier ice packs or leak from Ice, but I already own slim ice packs for my kids lunchboxes that fit perfect. So my advice to anyone would be to shop in the lunchbox section of any retail store and pick freezable Ice Packs for slim lunch boxes.
Never received my items
Items were ordered 14 days ago with a 2 day shipping, still haven't received them
Best Golf Cooler
Ever been out golfing and told the beer cart person has left early for the day? This cooler has saved the day. It is slim enough to fit into your golf bag and be undetectable. It's design is one of a kind.
Loving the Big Frosty
This is a great cooler that is easy to carry and low profile. The typical Sunday Golf quality provides durability and thoughtful design. If needed, it is easy to inconspicuously carry on the course. I had somebody ask, "What are you carrying? Your golf shoes?" Be sure to get the Sunday Golf ice pack. It fits nicely in the separate ice pack pocket. The Big Frosty can fit both 12 oz and 16 oz cans. Another great addition to my Sunday Golf gear and I will be using my Big Frosty on and off the course.
Not Water Proof
I was hoping this bag was water proof but the first time I used it leaked in my golf bag>
BIG FROSTY | Golf Bag Cooler
Better than Wendy's frosty
CART GIRLS HATE THIS BAG!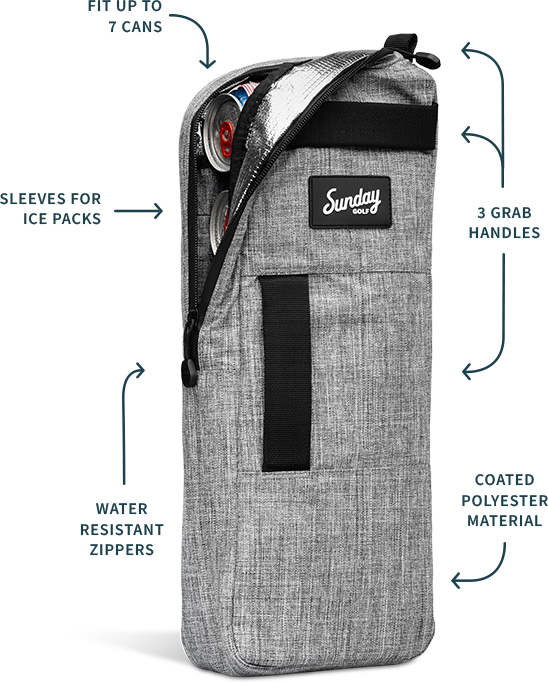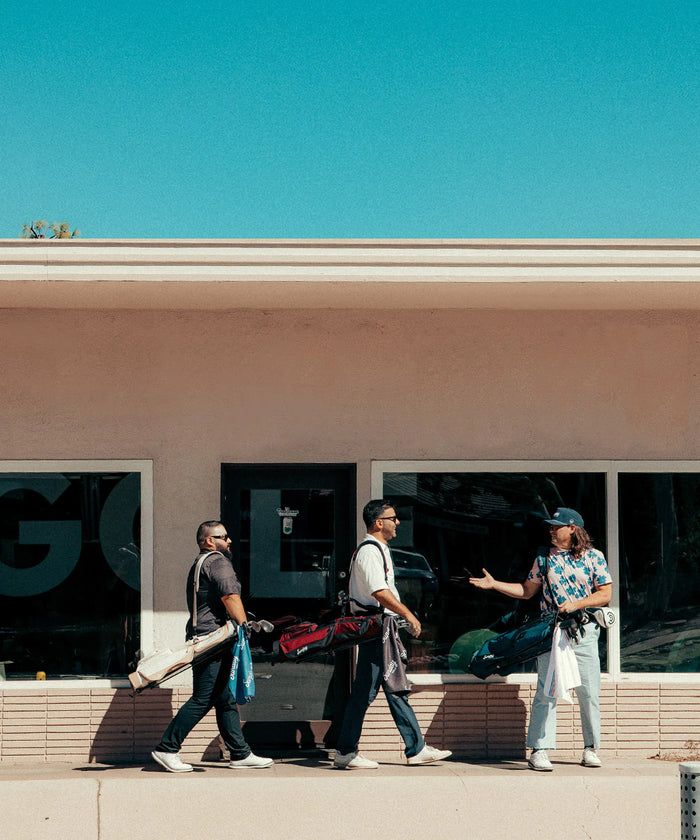 GOLF GEAR DESIGNED FORE THE WEEKEND