Out of stock
Ryder Stand Bag | MATTE BLACK
🚨 PRODUCT IN HIGH DEMAND 🚨
Product Details
- The Ryder by Sunday Golf is the lightweight full size stand bag you've been needing for a good time! With a built-in frosty pocket for your coldest beverages and 6 other pockets this golf bag is not short on storage. Designed to be lightweighT enough for walkers and versatile enough to throw on a cart and enjoy the ryde!
- A bag that is not short on storage. Six zippered pockets. Also, a Velcro glove holder and a towel loop to keep everything you need in place.
- Specially lined pocket to keep your drinks cold and the good times rolling.
- EZ flex base allows for perfect balance and fast ejecting legs. Comes with dual straps and a cart strap pass to assist for walking or riding.
- Velour lined valuables pocket with waterproof zipper will keep your tech and sunglasses sitting comfortable at all times.
WHY BUY FROM US?
✅  FREE LIFETIME WARRANTY: Sunday Golf warrants our products for a lifetime period from the date of purchase against defects in materials or workmanship.
✅ GOOD TIME GUARANTEE GUARANTEE: We take pride in our products. Don't love it? It's all good, take advantage of our  FREE 30-DAY, NO HASSLE RETURNS.
✅ PREMIUM QUALITY MATERIALS USED: Look and feel great out on the course, at the range, or that putting green your buddy just put in. You'll want to show this gear off! 
4-way with full length dividers
7.5"
Umbrella holder
Easy-access glove holder

Towel hook
Frost pocket for up to 4 beverages
Velour lined valuables pocket
Smell proof pocket
Waterproof Zippers
Self-adjusting dual strap
Pass-through cart strap
Height: 35"





A worthy entry into the walking stand market, not much to ding - however the valuables pocket needs to be a bit deeper.
JB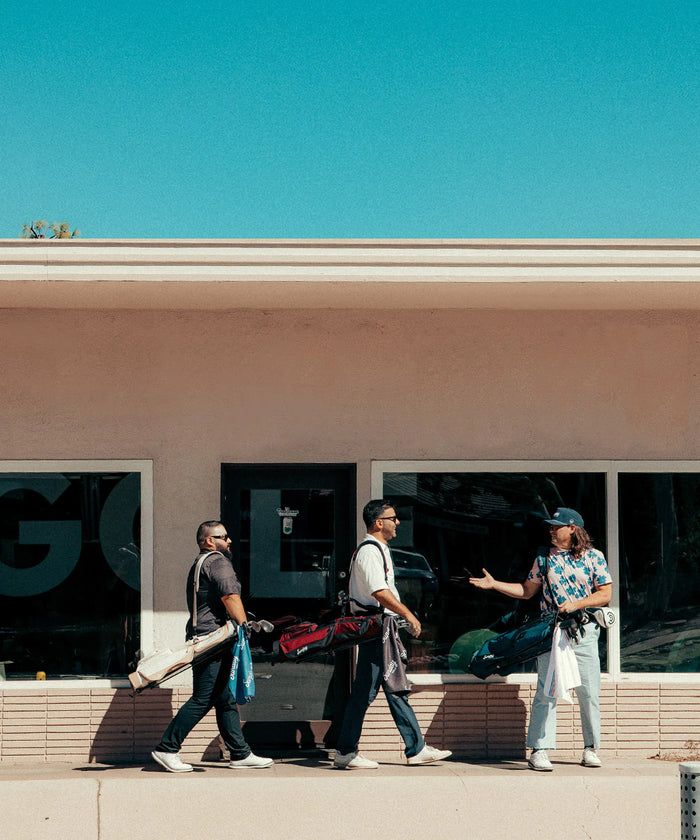 GOLF GEAR DESIGNED FORE THE WEEKEND